A 3 Season Sunroom from SRA Home Products is the Perfect Addition to Your Warminster, PA, Home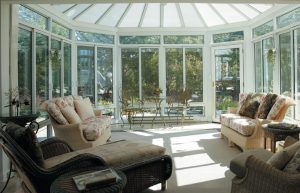 A 3 season sunroom is the ideal outdoor living product for homeowners in Warminster, Pennsylvania, who are looking to extend the living space of their home without undergoing a traditional renovation project. Sunrooms make the perfect place to host parties and gatherings, install a hot tub, exercise, and enjoy a wide range of other activities without the looming threat of inclement weather or annoying mosquitoes ruining the fun. Sunrooms can also increase your home's curb appeal – and potentially even its value – and will surely make you the envy of the neighborhood.
At SRA Home Products, we understand how valuable a 3 season sunroom can be to a home, which is why we install sunrooms manufactured by TEMO, one of the nation's leading providers of outdoor living products. TEMO has unmatched industry knowledge and experience, and has developed sunrooms with a number of impressive features. For example, TEMO sunrooms feature innovative TEMKOR surfacing, which protects against UV rays, denting, scratching, fading, and impact, and never requires any maintenance. These structures also have thermal core EPS insulation and energy-efficient windows, which will help the interior of the room maintain a comfortable temperature.
While some other companies outsource their labor to subcontractors, we believe that our customers deserve the peace of mind that comes with knowing exactly who is entering their home. When you entrust SRA Home Products to install a 3 season sunroom at your Warminster area home, you will have the pleasure of working with our in-house technicians, who:
Are factory-trained and -certified
Each have an average of 15 years of experience with SRA Home Products
Work to ensure your total satisfaction
Will remain respectful of your home and leave behind a clean work space
To top it all off, TEMO backs every sunroom with a limited lifetime transferrable warranty, so you can feel good knowing your investment is secure.
Learn more about the benefits of adding a 3 season sunroom to your Warminster, PA, home by contacting SRA Home Products today.