Basement Renovation Services for Cherry Hill, NJ, Residents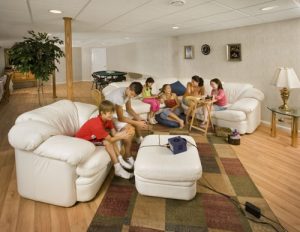 Basement renovation can be the key to transforming a simple storage space into an inviting room that your whole family can enjoy. But who can you trust with such an important investment in your home? If you live in Cherry Hill, New Jersey, the decision is easy – just turn to SRA Home Products for all your basement remodeling needs. With the finest basement renovation materials, a fully trained crew of installers, and a relentless commitment to excellence in everything that we do, there's simply no better choice.
At SRA Home Products, we know that successful basement renovation projects begin with reliable building materials. For that reason, we always install the thermal basement finishing systems manufactured by TEMO, one of the nation's most trusted home improvement materials manufacturers. These systems offer so many benefits for Cherry Hill, NJ, homeowners, including:
Energy conservation – The walls of our basement finishing systems have insulated cores that help maintain a consistent temperature in the basement, no matter the season.
Beauty – Our virtually seamless systems can enhance the appearance of almost any kind of basement, creating a very welcoming atmosphere.
Flexibility – Our installers can configure our finishing systems to meet the dimensions of every basement.
Ease of installation – Our systems only take a few days to install, rather than taking weeks or months to complete like a more traditional basement renovation project.
What's more, all of our basement system installations are performed by our highly experienced, trained crew. You can always count on them to deliver the meticulous installation that you expect with the courtesy that you deserve.
Contact SRA Home Products today to find out more about our basement renovation capabilities and how they can be used improve your home in Cherry Hill, NJ. We will gladly tell you about the options for your basement and answer any questions that you may have about our remodeling process.