Basement Systems Installed in Sewell & Manahawkin, NJ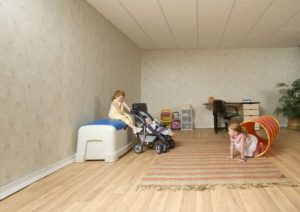 With so many basement systems on the market, you might be wondering which one is the right fit for your home. The fact is that choosing the ideal system is only half the battle: you also have to be sure that the team that you trust with the installation will perform the task with the utmost care. If you live in Sewell or Manahawkin, New Jersey, finding the perfect combination of an excellent basement finishing system and well-trained, courteous installers is as simple as turning to SRA Home Products.
At SRA, we know that outstanding basements start with excellent basement remodeling products – that's why we proudly install TEMO basement thermal finishing systems. Manufactured by one of the most trusted producers of home improvement products in the U.S., these systems provide advantages for our Sewell and Manahawkin clients, such as:
Clean installation – Because they don't require the addition of studs, framing, or insulation, our basement systems can be installed without generating much dust or debris.
Protection against mold – The walls of these systems are made of inorganic materials that don't retain moisture in the same way that drywall can, meaning that they aren't susceptible to growing mold and mildew, an important point in basement surroundings.
Fire resistance – The wall panels are made of "A" rated fire material for an extra measure of safety.
Additionally, our basement systems are installed by a team of experts who have years of experience improving homes. They are dedicated to creating the spaces that our clients envision for their houses, a commitment reflected in our A+ rating from the Better Business Bureau.
For more information about the basement systems that SRA Home Products installs in Manahawkin and Sewell, NJ, contact us today. We'll answer any questions that you have and discuss the specifics of your basement remodeling plans.