First-Rate Cabanas for Gladwyne, PA, Homeowners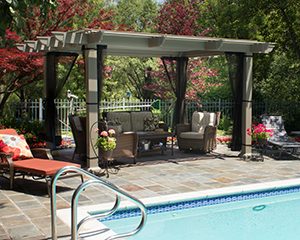 After taking a dip in your pool, you probably either lie out on a towel or head indoors. Neither option is particularly appealing — the sun can be uncomfortably hot, while air conditioning can be unpleasantly chilly. Plus, you aren't able to fully enjoy the beauty of your backyard from inside your home. SRA Home Products is pleased to offer the perfect solution to Gladwyne, Pennsylvania, homeowners — with one of our state-of-the-art cabanas installed in your backyard, you'll be able to relax outside while staying cool and remaining protected from the sun.
Sturdy Construction
When shopping for cabanas, it's important to choose a product that will continue serving you well for years to come. You won't need to worry about our cabanas being able to stand the test of time. We exclusively install cabanas manufactured by TEMO, a company that constructs all of their outdoor living products using heavy-duty, fully extruded aluminum. This impressive material is stronger than vinyl, wood, and roll-formed aluminum alternatives. Plus, it even resists deterioration, rotting, and insect infestation. TEMO's cabanas also come with their exclusive TEMKOR polymer coating, which guards against cracks, dents, scratches, and much more.
Optional Privacy Curtains
Many homeowners opt to have privacy curtains installed on their new cabanas. These gorgeous curtains allow you to use your cabana as an outdoor changing area, perfect for when you're having a pool party and don't want your guests to have to venture inside and miss all the fun.
For More Information
If you're interested in having one of our cabanas installed at your Gladwyne, PA, home, call SRA Home Products today. One of our friendly team members will be happy to answer your questions and provide you with additional information. And, we also offer complimentary in-home consultations, so we can set up an appointment at a time that fits into your schedule.