Offering a Beautiful Outdoor Pergola Selection for Egg Harbor Township, NJ, Homes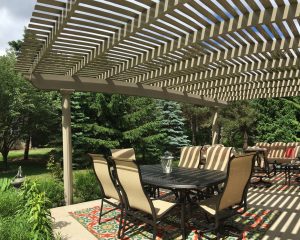 Make your yard a place for entertaining and relaxing with an outdoor pergola installed by SRA Home Products. We provide only the best pergolas on the market because our shade structures come from TEMO, a leading manufacturer in the outdoor living industry. Our team is also professionally trained and certified so you can expect top-quality service at your home in Egg Harbor Township, New Jersey.
Built to Last
Pergolas face the elements day and night, no matter the weather. That's why you want an outdoor pergola that's designed to last. Our pergolas do just that because they are made with heavy-duty, extruded aluminum that resists cracking, warping, peeling, and insect infestation. They also feature a specially designed, curved- lattice roof that offers extra protection from the sun.
Custom Styles
Each homeowner's wants and needs are different, so we provide a variety of pergolas that include:
Freestanding – With this option, your pergola can be anywhere around your property, for example, over a pool deck or your home's entryway.
Garden arbor – This type of pergola does wonders for any garden or landscaping. With an open-beam design, it's ideal for climbing vines.
Attached – Our attached pergolas can be fastened directly to your home's exterior for partial shade over patios and decks.
Operable – Enjoy a backyard pergola with a roof that opens and closes. It's ideal for controlling your sunshine intake!
Fast Installation
With installations taking just a day or two on an approved foundation, your outdoor pergola can be a part of your Egg Harbor Township, NJ, yard before you know it. Contact SRA Home Products today to schedule a free consultation to get started.