Finished Basements: Excellent Additions to Homes in Bear & Middletown, DE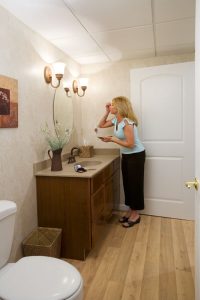 Finished basements increase the value of homes by increasing the amount of livable space available. If left in the hands of capable installers who use high-quality finishing materials, a renovation project can mean the difference between an unappealing storage space and a beautiful room that can be utilized for almost any purpose. Homeowners in Bear and Middletown, Delaware, who want finished basements to enhance their homes can always turn to SRA Home Products for the very best in basement remodeling services.
Perhaps the most obvious reason to choose SRA Home Products to renovate basements is our commitment to using TEMO thermal basement finishing systems. Produced by one of the home improvement industry's most trusted manufacturers, these systems ensure that all our finished basements:
Resist mold and mildew growth – The wall panels of our basement remodeling systems are made of materials that don't retain moisture, and therefore aren't conducive to the growth of mold and mildew.
Can be configured to complement any type of basement – Our basement systems are flexible enough to fit the dimensions of nearly any room and to meet whatever needs the homeowner has.
Have built-in insulation – The wall panels that we install include insulated cores that limit heat transfer into and out of finished basements, which can help keep them at a comfortable temperature throughout the year.
In addition, the design of the basement systems we install makes it easy for our trained and experienced crew to completely remodel a basement in Bear or Middletown within only a few days, compared to the weeks that it can take to complete a basement renovation through traditional means.
To learn more about the finished basements that we create, contact SRA Home Products today. We'll gladly explain how we can transform your basement in Bear or Middletown, DE.