Finished Basements Completed Perfectly for Homeowners in Cherry Hill, NJ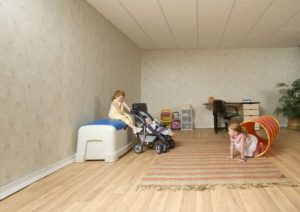 Finished basements help to increase the amount of living space in Cherry Hill, New Jersey, homes – and even potentially their value. However, not all home improvement companies are created equal, and choosing an experienced, reputable company to complete your basement renovation can mean the difference between a cold, damp, unused space and a beautiful new room that will benefit your home and your family for years to come.
Cherry Hill, NJ, homeowners who are looking for finished basements that will improve their homes' style, functionality, and energy efficiency can turn to SRA Home Products. Our finished basements, manufactured by TEMO, have a number of impressive features, including that they:
Resist mold and mildew growth since they don't retain moisture
Can be tailored to meet the size and layout of virtually any basement
Feature built-in insulated cores that make them energy efficient and can even lead to savings on your energy bill
Can be installed in a matter of days, rather than weeks
In addition to the exceptional quality of our finished basements, homeowners turn to SRA Home Products for finished basements thanks to the high caliber of our service. Rather than subcontractors, we only send our in-house factory-trained and -certified technicians to our customers' homes, so we guarantee that our technicians will complete your basement renovation with the utmost care and precision. Our dedication to providing exceptional service is evidenced in our A+ rating with the Better Business Bureau, so customers can take comfort in our proven track record of success.
To learn more about the finished basements we provide for homeowners in Cherry Hill, NJ, and all surrounding areas, contact SRA Home Products today. We will be glad to schedule a free consultation at your home.