Finished Basements Can Increase the Value of Homes in Sewell, NJ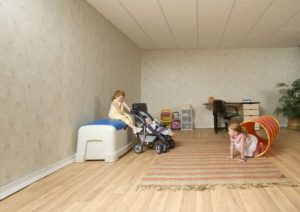 Finished basements are a great way to turn the unused spaces of Sewell, New Jersey, homes into warm, inviting rooms that can be utilized in a number of different ways. For example, you may choose to transform your basement into a spare bedroom where guests can relax comfortably when they are visiting. Or, you may prefer a spacious game room perfect for hosting parties and other gatherings. No matter how you plan to use your basement, however, you'll want it to be completed professionally with industry-leading materials that will stand the test of time. You'll likely also want your basement to function and look like new for years to come. For all this and more, turn to the experts at SRA Home Products.
The finished basements we provide for Sewell, NJ, homeowners offer many impressive benefits, including that they are:
Energy efficient – Our finished basements feature built-in insulated cores to help prevent outdoor temperatures from transferring indoors, reducing the burden on your HVAC system and potentially even resulting in savings on your energy bill.
Flexible – We can provide finished basements in essentially any layout, so we are sure to be able to meet your unique needs.
Protected against fire – Our finished basements are made of materials that hold a class A fire rating, so you can feel good knowing you and your family have this extra protection.
Another benefit of choosing SRA Home Products to handle your basement renovation is the peace of mind that comes with knowing your project will be completed seamlessly by our factory-trained and -certified technicians, rather than subcontractors. Our installers have an average of 15 years of experience each, so you can feel good knowing your home is in capable hands. And, thanks to our unique installation process, our craftsmen are able to complete a basement renovation in the span of a few days rather than a few weeks, allowing you to skip the hassle and get right to enjoying your new space.
Contact SRA Home Products today to learn more about the ways in which finished basements can benefit homes in the Sewell, NJ, area. We can even schedule a free consultation at your home so you can speak to a member of our team in person.