How Do Pergolas Provide Shade?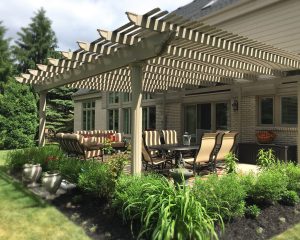 If you're planning to create an outdoor living space at your home, you'll want to install a structure that will provide you with sufficient shade on hot summer days. Lounging outside on warm summer afternoons is delightful, but the sun's blazing rays can make the experience unbearable. Plus, excess UV exposure can be hazardous to your health. Pergolas offer a solution to this dilemma — they offer shade while still allowing you to enjoy the sights and sounds of the outdoors.
You may be wondering how pergolas provide shade. Unlike patio covers, which have a solid roof, pergolas feature open louvers. This design offers a Mediterranean feel and helps to encourage the growth of climbing vines. While pergolas don't provide as much shade as patio covers, their louvers do block out some of the sun. The resulting amount of shade will often depend on how wide the louvers are and the amount of space between them. Many homeowners prefer pergolas over patio covers because they enjoy having some afternoon light filtering in when they're reading a book or relaxing with friends. Plus, the open ceiling allows them to stargaze at night.
Our Pergolas
If you're interested in having a pergola installed but you're concerned about the amount of shade it'll provide, you'll love the pergolas available from SRA Home Products. We proudly install pergolas manufactured by TEMO, a national leader in the outdoor living industry. Our pergolas stand apart from competing models because they feature curved louvers, which offer more shade than flat louvers. And, when you choose us for your pergola installation, you'll get to select from various styles, colors, and column designs. We even offer operable pergolas, which allow you to transition between open louvers and a solid roof just by pressing a button.
Call us today for more information. We proudly serve West Chester, Pennsylvania, and surrounding areas, and we'd love the chance to assist you with your outdoor renovation project.