How to Decorate Screen Rooms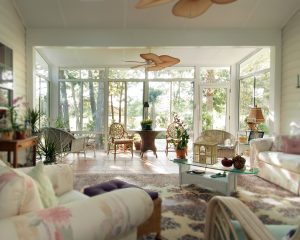 One of the best parts of a home renovation project is choosing how to decorate the new space. Having a screen room installed is no different — you'll essentially have a blank canvas to start from, and you should treat your new screen room as you would any other room in the house. Follow these steps to decorate a screen room you and your family will love.
Decide How You'll Be Using Your New Screen Room
Before you start looking at fabric swatches or ordering furniture, it's critical that you take some time to determine how you'll be using your new space, since this will impact your decorating choices. If you're planning to convert your screen room into a home office, for instance, you may want to use more subdued colors than you would with a playroom or a game room.
Settle on a Color Scheme
Next, you'll need to select a color scheme for the room. Many homeowners choose to extend their interior color palette into their new screen room, allowing for seamless continuity. Others prefer to use a new set of colors so that the screen room feels like a separate area of the home. The choice is up to you.
Pick Out Furniture & Accessories
Once you've decided on a color scheme, you can begin shopping for screen room furniture. Start with larger furniture items, such as a couch or dining table, since those will take up the most room. You may want to consider wicker or other materials that aren't affected by moisture. Then, continue filling in the space with smaller pieces. You'll want to feel at home in your new screen room, so make sure to add personal touches like art, lamps, and throw pillows.
Gorgeous Screen Rooms Available in Springfield, PA
If you're interested in having a screen room installed in Springfield, Pennsylvania, or the surrounding area, there's only one company to choose for the job — SRA Home Products. We proudly install TEMO screen rooms, and we've completed more than 5,500 projects since being founded in 1988. Contact us for additional information.