How to Decorate Sunrooms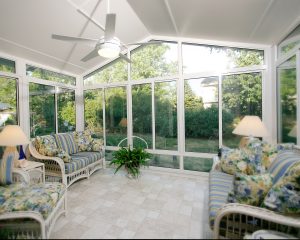 So, you've decided that you'd like to add a sunroom to your home and you're looking for decorating ideas. Or, perhaps your home already includes a sunroom and you're hoping to update the space. Here are just a few tips for how to decorate sunrooms to achieve a look you'll love for years to come:
Decide How You Want to Use the Space
One of the greatest benefits offered by sunrooms is that they're incredibly versatile. Whether you desire an extra dining space, an office, a playroom, or a gym, you can design a sunroom that will perfectly suit your needs.
Select a Color Scheme
Many homeowners think of sunrooms as extensions of their homes. If that's the case for you, consider a color scheme that will match or complement the one used in the rest of your house. Or, if you picture your sunroom as an oasis that's separate from everything else, feel free to experiment with bright, bold colors that you might not otherwise use.
White is always a great option for sunrooms — with natural light streaming in through the many windows and possibly even skylights, a neutral color like this will make your sunroom look bright and airy. Or, if you prefer some color, try to find a piece that you love, then work from that. If you adore the pattern on a sofa or throw pillow, for instance, use that as a starting point for your color selection process.
Shop for Furniture & Accessories
Now that you've chosen a color scheme, go shopping for furniture and accessories that will fit the motif. If you've chosen turquoise, lime green, or another tropical color, perhaps you'll like the look of wicker furniture. And, if you're planning to use your new sunroom for multiple purposes, consider investing in an area rug to divide the space. For instance, by placing an area rug on one side of the room and arranging furniture around it, you can create a sitting area that feels separate from whatever you place on the other side of the room, whether it be a dining table, a bar, or a desk.
If you're in the West Chester, Pennsylvania, area and you're interested in having a sunroom installed at your home, turn to SRA Home Products. Our family-owned and -operated company has been installing sunrooms and other outdoor living products at local homes for more than 30 years, and we would love to help you design the sunroom of your dreams.