Beautiful Outdoor Rooms Installed at Homes in Sewell, Manahawkin, and Other NJ Communities
Outdoor rooms make fantastic additions to homes in Sewell, Manahawkin, and surrounding New Jersey communities. The TEMO outdoor rooms that SRA Home Products installs create great spaces to entertain guests or just relax in, and also potentially increase the overall value of your home. Our use of TEMO products gives our customers peace of mind that they are getting the finest structures on the market. With over 40 years of experience, TEMO's knowledge and experience with outdoor rooms and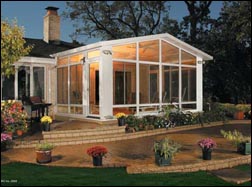 the home improvement industry are hard to beat.
Examples of the outdoor rooms that are installed by SRA Home Products include:
Screen rooms – The screen rooms that we install protect against inclement weather and insects, and have thermal roofs that deflect the sun's heat. Homeowners around Sewell and Manahawkin also enjoy the added flexibility that TEMO screen rooms provide, as they can easily be converted into a sunroom at a later time. What's more, your screen room can come with removable vinyl sashes that you can place over the screens. These sashes block up to 99 percent of the sun's UV rays and provide added protection from the wind and rain.
Sunrooms – Extend your living space by adding a sunroom, available in seven different styles to match the architecture of virtually every home. These rooms offer excellent energy efficiency thanks to high-performance glass and thermal wall systems.
Our certified and factory-trained technicians install all outdoor rooms for our clients. Since the majority of our employees have worked for us for over 15 years, you can relax knowing that your home improvement project is in good hands, a claim that is backed by our A+ rating with gold accreditation from the Better Business Bureau. We are proud to provide clients with a professional and timely installation experience that will leave them feeling satisfied. Additionally, you can be sure that your investment is covered thanks to the manufacturer's transferrable lifetime warranty.
For more information on the TEMO outdoor rooms we provide for homeowners throughout Sewell and Manahawkin, NJ, as well as the surrounding areas, contact SRA Home Products today.