Discover Why Our Outdoor Rooms Are the Best Choice for Your Springfield, PA, Area Home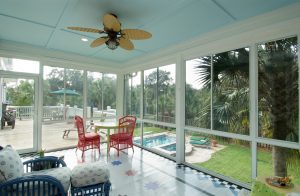 Have you been researching outdoor rooms, trying to find which one is the best fit for your family's needs and for your budget? At SRA Home Products, we understand that our customers in the Springfield, Pennsylvania, area have a wide range of choices available to them. We invite you to read on and find out why our outdoor rooms are, by and far, the best choice for your home.
Strength and Durability
We're pleased to exclusively install outdoor rooms manufactured by TEMO, the largest sunroom manufacturer in the country. TEMO constructs their outdoor rooms using heavy-duty, fully extruded aluminum, which is stronger than wood, vinyl, and roll-formed aluminum. This material also resists rotting, deterioration, and insect infestation. Plus, TEMO applies a polymer coating to their outdoor rooms that protects against chalking, fading, scratching, peeling, cracking, denting, and warping. This all means that your new addition will be strong and durable enough to last for years to come.
Limited Lifetime Transferable Warranty
If you're still concerned about the life of our outdoor rooms, you can rest easy knowing that they're protected by TEMO's limited lifetime transferable warranty. One of the best parts about this warranty is that it can be transferred to the new buyer if you ever decide to sell your home. So, if there comes a time when you want to put your home on the market, you'll be able to use this warranty as a valuable selling point.
Various Customization Options
Something that sets our outdoor rooms apart from the competition is that our additions can be fully customized to match your home. Homeowners can select from various styles (California, cathedral, conservatory, Santa Fe, solarium, studio), colors (white, sandstone, bronze), window styles (prime window, window wall), and more, allowing you to design the perfect structure for your home.
To learn more about the many benefits offered by our outdoor rooms, please contact SRA Home Products today. We proudly serve homeowners in the Springfield, PA, area.