SRA Home Products — The Company to Choose for Exceptional Patio Covers in Lower Merion Township, PA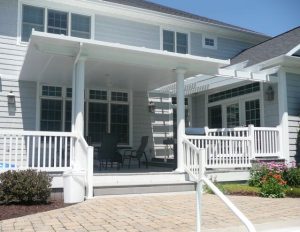 Have you been searching for a way to add valuable living space onto your home? The team of outdoor living professionals at SRA Home Products invite you to peruse the wide array of patio covers we have available for homeowners in the Lower Merion Township, Pennsylvania, area. Our patio covers provide the perfect spot to relax outside with family and friends while still remaining protected from the elements.
Outstanding Quality
At SRA Home Products, we're proud to exclusively install patio covers manufactured by TEMO, a company that has been leading the outdoor living industry since 1971 (they've worked with more than 100,000 customers across the United States during that time!). TEMO constructs patio covers of unsurpassed quality. They're made from heavy-duty, fully extruded aluminum, which offers more strength than wood, vinyl, and roll-formed aluminum. This remarkable material also resists deterioration, rotting, and insect infestation, making it far superior to wooden alternatives. Plus, TEMO applies their exclusive TEMKOR polymer coating to all of their patio covers, protecting them from dents, scratches, fading, and more.
Wide Selection of Styles
It's important to choose a patio cover that will meet your family's needs. If you enjoy reading outside, for example, you may want to select our sunlight pavilion model, which features a polycarbonate roof that allows natural light to pass through. Or, if you and your family like to dine outdoors, you may be interested in our St. Thomas or Santa Fe patio covers, which include curtain walls that allow for the installation of retractable screens (the Santa Fe model also includes stylish Mediterranean-inspired pergola trim).
If you live in Lower Merion Township, PA, and you'd like more information about the patio covers we have available in your area, please contact SRA Home Products today.