Patio Covers Installed in the Newark, DE, Area by SRA Home Products Will Meet Your Backyard Needs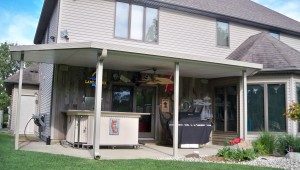 Having one of SRA Home Products' stylish patio covers installed is the perfect way to spruce up your Newark, Delaware, backyard. Whether you're looking for an elegantly covered dining area, a spot where your children can play out of the sun's damaging rays, or simply a place where you and your friends can relax in the shade, our covers can meet your backyard needs.
So Many Styles to Choose From
We exclusively install patio covers manufactured by TEMO, a company that has been a leader in the outdoor living industry since it was founded more than 40 years ago. TEMO manufactures two types of covers:  solid roof and carport. In addition to TEMO's standard pavilion patio cover, homeowners can select from various alternative patio cover styles. The sunlight pavilion style, for instance, is the perfect choice for homeowners who enjoy reading outside, as it comes with a light-filtering polycarbonate roof that's available in three standard colors and millions of custom colors. The St. Thomas style comes with curtain walls that allow for optional retractable screens, making this model ideal for families seeking protection from mosquitoes and other pests. And, for homeowners who like the idea of retractable screens but are looking for some additional flair, we also offer the Santa Fe style, which comes with Mediterranean-inspired pergola trim along the perimeter of the roof.
When you choose to have one of our patio covers installed at your Newark, DE, home, you get to decide between white and sandstone colors. And, you also get to choose between the three following column styles, all of which feature ornamental beam flair:
Florentine — Our Florentine columns are inspired by Florence's elegant architecture, and feature a grooved square design and a double-header beam.
Roma — Our Roma columns take their inspiration from the rich architectural history of Rome. They feature square posts and a single-header beam.
Venetian — Our Venetian columns are inspired by the romantic architecture found in Venice, and feature a curved and fluted design, as well as a double-header beam.
Why Choose a TEMO Patio Cover?
No matter which of these patio cover alternatives you select, you can rest assured that you'll be receiving a product that will serve your family well for many years into the future. The heavy-duty fully extruded aluminum that TEMO uses to construct its patio covers is stronger than many comparable alternatives, including wood, vinyl, and roll-formed aluminum. TEMO also uses a durable TEMKOR polymer surfacing that prevents warping, peeling, and cracking.
And, if you're still concerned about durability, you'll be pleased to know that like all of TEMO's outdoor living products, their patio covers come with the company's limited lifetime transferable warranty. You'll remain protected for as long as you own your home, and you'll even be able to transfer the warranty to the new owner if you ever decide to move to a different location.
Find Out More
Please call SRA Home Products today to discuss having one of our stylish patio covers installed at your Newark, DE, home. Just let us know a date and time that works for you, and we'll set up a complimentary in-home consultation. We've completed more than 5,500 projects, and we look forward to helping you build your dream backyard.