Sunroom Additions Make it Easy to Enjoy the Space Around Hockessin, DE, Area Homes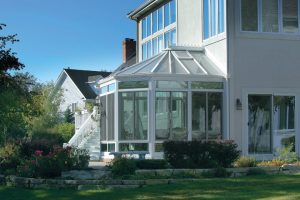 Sunroom additions from SRA Home Products provide protection for the backyards and other outdoor living spaces of homes in Hockessin, Delaware. If you enjoy taking in the views around your home, but would like to do so without having to put up with mosquitoes and other insects, windblown debris, inclement weather conditions, and dangerous UV rays, a sunroom from SRA Home Products could be the product you've been searching for.
In addition to guarding your family against pesky outdoor annoyances, the sunroom additions we install at SRA Home Products offer homeowners many other benefits. Manufactured by TEMO, the nation's leading provider of outdoor living products, the sunroom additions we install at homes in Hockessin boast:
Durability – Our sunrooms are coated with TEMO's TEMKOR surfacing, which prevents scratching, fading, and denting, so you can trust your structure will continue to look like new after years of use.
Energy efficiency – Our sunrooms boast features like thermal roof and wall systems, as well as high-performance glass, all of which will help keep a comfortable temperature inside your sunroom throughout the year.
Style – We install TEMO sunrooms in a variety of styles – some of which include studio, California, solarium, cathedral, and conservatory – so you can be sure one of our options will complement the existing construction of your home.
Homeowners who choose SRA Home Products to install sunroom additions on their homes have peace of mind that they are working with an experienced, reputable company. We have earned an A+ rating with the Better Business Bureau, an accomplishment that speaks directly to our commitment to excellence. Because we never send subcontractors to a customer's home, we guarantee that all sunroom additions will be installed with the utmost care and precision. Our factory-trained and -certified technicians will treat your home as if it were their own, and will leave behind a tidy workspace when the job is completed, minimizing any potential inconvenience this project could cause.
If you would like to learn more about our TEMO sunroom additions, or about our exemplary installation process, contact SRA Home Products today. We are proud to serve homeowners in Hockessin, DE, and the surrounding communities.