Our Sunroom Additions Can Be Customized to Match Your Home in Radnor Township, PA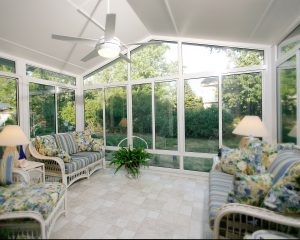 SRA Home Products is pleased to offer fully customizable sunroom additions to the homeowners in Radnor Township, Pennsylvania. We've remained family-owned and -operated for more than 30 years (we're already on our second generation!), and we exclusively install sunroom additions manufactured by industry leader TEMO.
Design the Perfect Sunroom
At SRA Home Products, we understand how important it is to provide our customers with a wide variety of options. You don't want some cookie-cutter sunroom that you could find at any house on the street — you want to design a structure that will meet your needs and complement your home. That's why we offer sunroom additions in a number of styles, including the following:
California
Cathedral
Santa Fe
Solarium
Studio
What's more, our sunroom additions can be further customized to suit your personal tastes. You can select the color (white, sandstone, or bronze), window system (prime window or window wall), glass type (single-pane or double-pane), and UV protection level (SPF 59 or SPF 85).
Or, if you desire additional customization, you can opt for one of the sunroom additions from TEMO's Nino Vitale Signature Collection. You'll be able to select brickwork, siding, and roofing to match your home, allowing for full architectural integration.
Get Started Today
If you own a home in Radnor Township, PA, and you're ready to start designing your new sunroom, please contact SRA Home Products. Our knowledgeable team will provide you with more information about our customization options and answer any questions you might have about our design and installation process. We'll also be happy to schedule a complimentary in-home consultation so that we can take some measurements, walk you through our options, and help you determine which of our sunroom additions will work best for you.