SRA Home Products Offers Various Styles of Sunroom Additions to Springfield, PA, Area Homeowners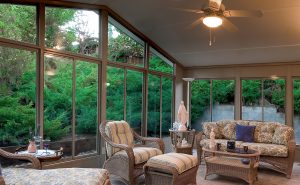 Are you looking to add valuable living space onto your home without giving up the style and flair that set it apart from others on the block? We invite you to consider the wide selection of sunroom additions that SRA Home Products offers to homeowners in the Springfield, Pennsylvania, area. We're a second-generation family-owned and -operated company, and we exclusively install sunroom additions from TEMO, the nation's largest sunroom manufacturer.
At SRA Home Products, we understand how important it is to provide our customers with a wide range of choices. We proudly install the following styles of sunroom additions at homes throughout the Springfield, PA, area:
California, featuring a modern split-level design
Cathedral, displaying airy vaulted ceilings
Conservatory, including a polycarbonate roof
Santa Fe, showing off Mediterranean-inspired pergola trim
Solarium, highlighting a polycarbonate roof
Studio, presenting an easily adaptable configuration
In addition to choosing from these styles, homeowners can also select among multiple colors (white, sandstone, and bronze), window styles (prime window or window wall), glass panes (single- or double-pane), and window SPF strengths (SPF 59 or SPF 85). And, for our customers desiring even more customization options, we also offer sunroom additions from the Nino Vitale Signature Collection. We're able to fully integrate these sunroom additions into the existing architectural style of your home thanks to options such as knee walls, matching roof styles/brickwork/siding, and more.
If you're interested in adding one of our customizable sunroom additions to your Springfield, PA, area home, please contact SRA Home Products today. We'll be happy to provide you with additional information about our sunroom style choices and answer any questions you may have about our hassle-free design and installation process. We look forward to helping you choose the perfect addition for your home.