What Are Sunrooms Used For?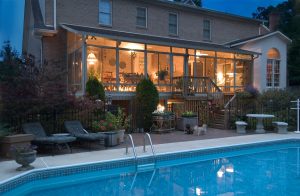 Have you considered adding a sunroom to your home, but wondered what you could use it for? Sunrooms can be used for almost anything you can imagine. Because sunrooms provide so much additional living space, many people choose to add couches, end tables, and a television, and use them as an extra family room where their loved ones can gather and spend time together. Some other popular sunroom uses include:
Craft room
Dining area
Entertaining space
Greenhouse
Guest room
Gym
Home office
Playroom
No matter how you choose to use your sunroom, you can look forward to having additional space where you can relax without having to worry about insects, UV exposure, and rain. Many homeowners even opt to have hot tubs installed in their sunrooms so that they can enjoy a relaxing nighttime soak regardless of the weather outside.
Choose SRA Home Products for State-of-the-Art Sunrooms
If you're interested in adding a sunroom to your home, turn to the outdoor living experts at SRA Home Products. We proudly install sunrooms manufactured by industry leader TEMO, and our sunrooms offer a number of features that you won't find elsewhere. They're made from heavy-duty, fully extruded aluminum, which is stronger than commonly used materials like wood and vinyl, and they come with TEMO's exclusive TEMKOR polymer coating for protection against scratches, dents, fading, and more. Plus, our sunrooms feature HPG 2000 glass, which offers an SPF of 59 and is four times stronger than annealed glass, along with a thermal, interlocking roof system. And, they're available in a wide array of styles and colors.
For more information about the features included with our top-of-the-line sunrooms, call us today. We're a second-generation family-owned and -operated company that's been serving homeowners in Newark and the Delaware Valley region since 1988, and we look forward to working with you.