What Is a Screen Room?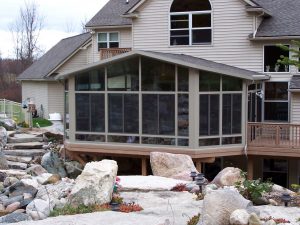 A screen room is a type of patio enclosure that features multiple screened openings along the walls. If you're familiar with sunrooms, screen rooms are very similar, but include screens where you would otherwise find glass window panes. Many homeowners enjoy having screen rooms because they offer a spot to enjoy the sights and sounds of nature without the annoyance of mosquitoes, flies, and other insects. Screen rooms also allow you to take advantage of your backyard even on rainy days and exceptionally hot days, as they offer protection from the elements. Because of these benefits, screen rooms can be used much more often than porches, patios, and decks.
What Are Screen Rooms Used For?
The possibilities for how to use a screen room are endless. Many families use their screen rooms as an extra living area where they can relax and spend time together. By adding a couch and some side tables, you'll have the perfect spot to watch television, play board games, or read a good book. Other households choose to use their screen rooms as an additional dining area. This is particularly helpful if you enjoy hosting dinner parties but often run out of space in your kitchen or dining room. There's no better spot to enjoy a meal on a beautiful summer evening than in a screen room, where you'll be able to feel refreshing breezes as you eat.
If you're interested in having a screen room installed at your home, contact SRA Home Products today. We're a premier installer of screen rooms and other outdoor living products, and we proudly serve West Chester, Pennsylvania, and surrounding areas. Since being founded in 1988, our family-owned and -operated company has completed more than 5,500 projects in the Delaware Valley. We look forward to working with you.