What Is the Best Glass for Sunrooms?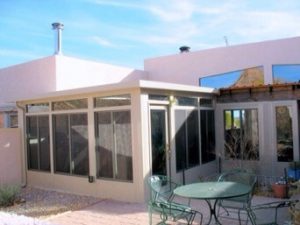 If you're considering adding a sunroom to your home, you may be wondering what type of glass is best for the windows. The answer is clear — HPG 2000 glass. This type of glass, which is exclusively available with TEMO-manufactured sunrooms, will stand strong and keep your family protected from the sun's blazing rays.
Maximum Strength & Durability
HPG 2000 glass is tempered, meaning that it's strengthened using either a chemical or a thermal process. As such, it's four times stronger than annealed glass. When compared to regular glass, tempered glass is also more resistant to scratches and other damage. And, if your sunroom windows ever do break, HPG 2000 tempered glass will shatter into tiny, granular pieces instead of large, jagged fragments, thereby reducing the risk of injury.
Remarkable UV Protection
Another benefit of using HPG 2000 glass in your new sunroom is that it offers exceptional protection against ultraviolet rays. HPG 2000 glass comes standard with SPF 59 protection, but you can choose to upgrade it to SPF 85. Not only will HPG 2000 glass protect your family from dangerous sun exposure, it will also minimize solar heat gain, helping to keep your sunroom at a comfortable temperature.
Enjoy HPG 2000 Glass at Your Toms River, NJ, Home
If you're interested in having a sunroom installed that features HPG 2000 glass, you can turn to the experts at SRA Home Products. We're a second-generation, family-owned and -operated outdoor living company, and we proudly install TEMO sunrooms at homes throughout Toms River, New Jersey. Contact us to learn more or to schedule a free in-home consultation.