Which Manufacturer Has the Best Patio Covers?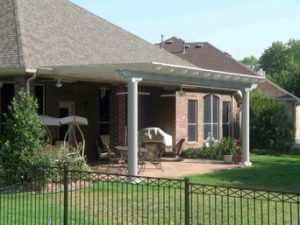 If you're in the market for a new patio cover, you've probably come across numerous manufacturers, all of whom claim to be the best. But, which manufacturer actually has the best patio covers? All signs point to TEMO. TEMO has been at the forefront of the outdoor living industry since 1967. Since that time, they've worked with more than 100,000 customers throughout the country and earned an A+ rating from the Better Business Bureau. TEMO's patio covers and other outdoor living products are renowned for being strong, durable, and customizable.
Strength & Durability
TEMO constructs all of their patio covers from heavy-duty, fully extruded aluminum, which has been proven stronger than wood, vinyl, and roll-formed aluminum. Fully extruded aluminum also resists deterioration, rotting, and insect infestation, making it considerably more durable than wood alternatives. And, for even more durability, TEMO treats their patio covers with their exclusive TEMKOR polymer coating, which guards against:
Chalking
Cracking
Denting
Fading
Peeling
Scratching
Warping
Plus, every TEMO patio cover comes with the manufacturer's limited lifetime transferable warranty for ultimate peace of mind.
Beauty & Customization
TEMO patio covers are also fully customizable, so you'll be able to design a structure that complements your home and matches your personal sense of style. In addition to their standard pavilion design, TEMO also offers sunlight pavilion patio covers (featuring a polycarbonate roof), St. Thomas patio covers (allowing for optional retractable screens), and Santa Fe patio covers (featuring optional retractable screens and pergola trim). You can also select the color (white or sandstone) and the column style (Florentine, Roma, or Venetian).
TEMO Patio Covers for Springfield, PA, Homeowners
If you're interested in purchasing a TEMO patio cover in the Springfield, Pennsylvania, area, you can turn to the outdoor living team at SRA Home Products. Contact us to schedule a complimentary in-home consultation at a date and time of your choosing.